How to add the Discord bot.
To add the bot to your server you will need to invite it using the
invite link
then select the server you want to add it to. Bot Invite Link:
https://trd.ng/addbot
​
​
​
The bot's permissions are required for it to function, this is to ensure a high quality user experience as it was intended. None of these permissions are security sensitive.
​
There is 1
optional
permission that you can grant the bot after it has been added. The
Manage Roles
permission will allow the bot to create roles that are linked to badges on the website such as
Top Trader
and
High Win Rate
which are rewarded to traders who earned them from holding a top ranked position on the leaderboard, or having a 70% win rate or higher.
When the bot joins the server it scans for channels with the keywords "general", "hangout", & "chat" to send it's greeting message. If it does not detect a channel containing a key word it sends the message into the first channel it has the
Send Messages
permission. This greeting message will inform you that a setup is not required but will prompt you with the available commands for settings.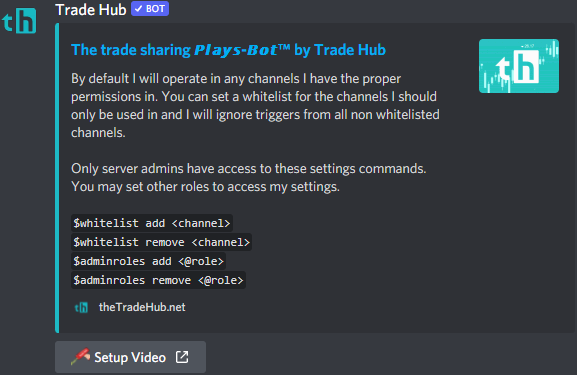 ​